Our Rebrand: An interview with Kelly & Co. Events
In case you haven't noticed – we have a new name and a brand-new brand! Over a decade old and still ambitious for growth, Kelly & Co. Events is a wedding and event planning + design company, completely rebranded. While we enjoy a solid reputation in the industry, we wanted to better translate who we are. We recognized an opportunity to put a stake in the ground and be bold!
Our brand needed to authentically tell our story. To this end, in June, we launched Kelly & Co. Events from Head Over Heels NC. We built around the concept of interdisciplinarity and sophistication. Fresh and distinct, the launch came after nearly 4 months of research, development, and implementation. Our entire team has been working really hard to make an amazing product. So how did we do it, and why? Natasha, our Lead Planner sat down with Kelly, our Owner for a behind-the-scenes look!
Kelly, the new brand looks incredible! Can you explain why we wanted to rebrand?
Thank you!!! Let me start by saying that Head Over Heels was so good to us! It was established in 2006 as primarily a wedding planning company and I came on board as a lead wedding planner in 2010. It was so exciting when I took over in 2012, and I knew that eventually, I would expand to planning not just weddings but all kinds of fun & fabulous social events. The name, Head Over Heels, was super cute but I always felt like it didn't represent who we truly were as a company, especially as we started planning more events outside of weddings. It has always been in the back of my mind to rebrand, but it was a scary concept because we had such a great reputation as Head Over Heels.
What was the driving force?
In February of 2018, you and I were at a vendor party/grand opening and we were chatting with each other and all our amazing industry partners. The topic of our rebranding came up and everyone was so incredibly supportive. The support we received was honestly so inspirational. These were not just caterers, DJ's, florists and photographers who we had worked with for years, but also planners and designers who we respected and admired so it was kind of liberating and exciting to feel their support and affirmation that we should go for it! And so, we decided that night, that we would officially start the rebranding process. And that's when Kelly & Co. Events went from a thought to a reality.
What defining characteristics did we want to carry over from HOH to the new brand?
We wanted our current brand to be more sophisticated than the HOH brand, but we also wanted to make it clear that we are the same faces behind the brand. It was EXTREMELY important to us that our industry partners and our past, current and potential clients knew that our brand may have changed but that we are still the same team of planners with the same trustworthy reputation.
What did the process look like?
Wow. Such a process! Once we officially decided to rebrand to Kelly & Co. Events, I thought that I would NEVER trust anyone to take over and truly understand the concept that was in my head. Shortly thereafter, I was getting my lashes done [insert shout-out to the amazing Glow Beauty Charlotte!!!!!] and chatting with her because I have nervous energy and don't know how to relax and be quiet (sorry Katie). She was also going through the rebranding process and highly recommended Susannah with Hello Ginger Creative. One week later, I met with Susannah and I instantly knew that she was the one. And the rest is history!
About the brand: Why does it look the way it does?
I told Hello Ginger that I wanted the brand to be sophisticated and chic. Nothing "cutesy". Nothing "busy". Just simple and elegant to reflect who we are and to translate our work in a way that people can relate to and better understand who we truly are as a company.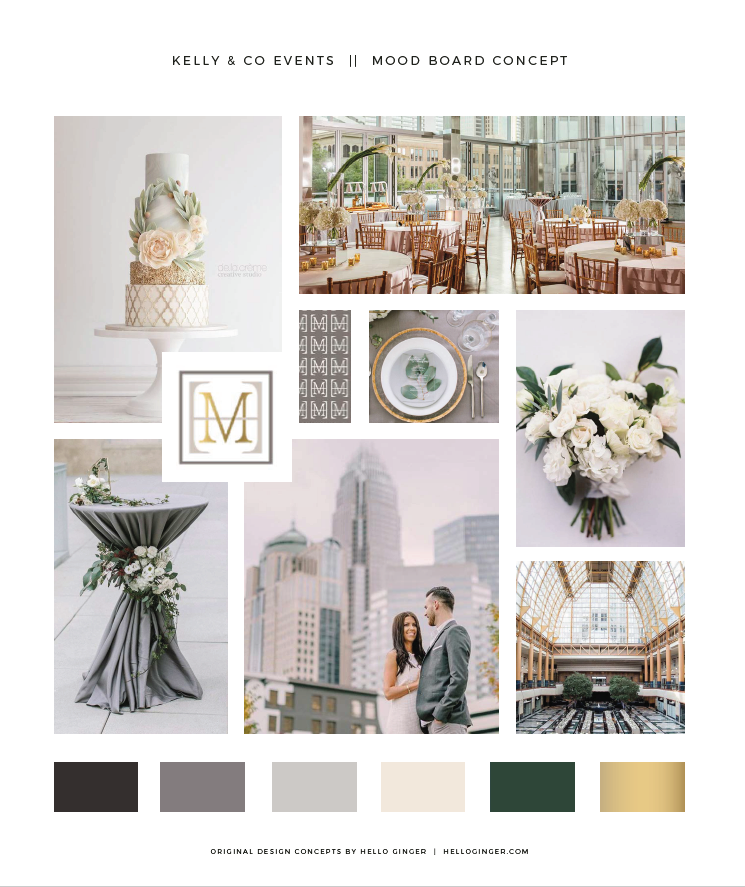 One of the very first steps in the rebranding process was conveying to Susannah with Hello Ginger what vibe we were going for. She took our ideas and created this beautiful mood board. The mood board served as inspiration for the branding concept.
What are some of the challenges?
Hello Ginger made it so easy for us! She presented us with multiple options for every aspect of the rebrand. But I would say the biggest challenge was when we were working on the new website and I had to narrow down our portfolio. That was seriously nearly impossible. We have done so many beautiful weddings & events over the years, but we just couldn't showcase them all, which was really hard for me. In the end, we just went with our more current events with the goal of blogging on as many of our past events as possible. We have worked with so many amazing people and really want to showcase them all!
What are some of your favorite features of the new brand?
I am obsessed with our logo. It is clean and simple, yet sophisticated, and I feel like it is something that people will remember and recognize. And I love our background patterns! We only use them as accents, but the subtle "K" pattern is just so unique and custom. And of course, our new website is so beautiful and such a perfect reflection of our new brand!!!!!!!!
What does implementing a new brand look like behind the scenes?
It is so stressful and exciting, all wrapped up in one! I always knew it would be overwhelming to change our brand and go from Head Over Heels [a name that many vendors and clients knew for over 12 years] to Kelly & Co. Events. My biggest fear was that someone would ask one of our vendors about Kelly & Co. Events and they would be like, who is that? So, we just tried to make sure that as many of our industry partners, as possible, knew of the name change long before we officially announced the launch.
Launch day (woot woot!): Share what it entailed?
OMG. The timing of the launch was so crucial. We decided to announce our launch on June 22nd. Somehow, I managed to forget that it was the same exact day that I was leaving for Florida for my annual girls' trip. I had to wake up at 4:30 am that morning to catch my flight so I typed everything up in a draft on Instagram the night before. As soon as I woke up, I posted it and I was just dying as I drove to the airport and caught my flight. I was so excited and nervous to see everyone's reaction and feedback! Luckily, my 3 best friends are super supportive and were just as excited as I was to read all the love and support we received! Also, there was so much more involved than one would think with NOT losing our online reviews! We have worked hard to receive all our 5-star reviews over the years and let me tell you, it is not easy to keep those reviews when you change your name. But all is well in the end and thank goodness we were able to keep them all.
How did our existing clientele, friends and family react to our rebranding?
The love and support we received was absolutely overwhelming. Although many knew our new name before our official launch, most did not know what the brand would entail. In fact, except for our K & Co. planners, I kept our brand fairly secretive because I really wanted it to be a surprise for everyone. Sometimes you get input from people and it sways you to move away from your original vision and from what you know in your gut and heart will be best for you. Like the time we told everyone that we were naming our son, Cooper, and they said they once had a dog named Cooper. Seriously, at least 4 people told us that. LOL. But in the end, we still went with Cooper [and it's the perfect name for him!] and I know that Kelly & Co. Events is our new perfect name as well! And I have to add that so many of our previous clients have reached out to us to congratulate us on our new brand. It just makes my heart happy when I hear from them, especially from those whose weddings/events I planned many, many years ago. I am so flattered that they still follow us!
What can we expect from Kelly & Co. Events moving forward?
Moving forward, we will just continue doing what we do best - planning and designing unique weddings and events. We still have the same amazing team of planners that we have had for years and we will continue to work closely with all our creative industry partners. We have said it before and we will say it again - we could not do this without our amazing vendors who take our vision and always help to make it a reality. The future is limitless and we are so excited for the next chapter with Kelly & Co. Events!